13 years in Bollywood and after initial rejection, Emraan Hashmi has made a name for himself with his hard work and persuasion. Though the serial-kisser of Bollywood has gone through lots of up and downs in his career, there is no doubt that he is one of the big stars today. Let's have a look at  some facts make Emraan Hashmi the star he is today.
1) Awesome looks
Emraan is a typical chocolate boy of B-town. A 5 feet 9 inches frame, fair-skinned and athletic build, the actor has the girls swooning. To top it all, the actor regularly experiments with different hairstyles and beard which highlights his feature perfectly.
2) Serial Kisser
It will be a major crime to not mention this. After all, this was what made Emraan famous! Hashmi surprised everyone with his bold sex and kissing scenes in 'Murder' and thereafter, all his movies has a well planned kissing scene. From Mallika Sherawat to Dia Mirza to Vidya Balan to Jacqueline Fernandez and the much recent Nargis Fakhri in 'Azhar', he has kissed them all!
Emraan: The Serial Kisser
3) Media-friendly
The actor has never behaved rudely with the media under any sorts. He has always maintained a good relationship with them and is considered one of the candid and calm actor of B-town. (Emraan Hashmi highest grossing movies)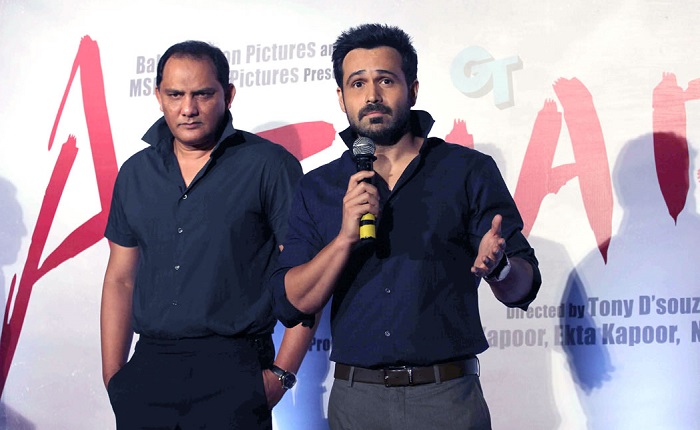 4) The uncontroversial Star
13 years in Bollywood and Emraan has never been part of any controversy! Emraan believes in doing his work, packing up and going back home for a quiet evening. He doesn't go to parties. According to him, less is more.
5) One woman man
3 years after he debuted in Bollywood, Emraan got married to Parveen Shahani in 2006. Even after all the steamy scenes that he has done, not even once his name has been linked with any actresses till date.
6) Hit song giver
Whether Emraan's film get hit or not at the Box Office, his songs are always a hit! Apparently, Emraan listens to the song before the script and then decides! His famous songs include 'Bheegey Honth', Peelun, 'Beetein Lamhein' and the much recent 'Lo Maan Liyaa Humne' from Raaz Reboot.
Emraan Hashmi's hit songs
7) Very Limited Brand Endorsements
Emraan Hashmi doesn't give brand endorsements as much importance as his film career. You will rarely see an Emraan Hashmi ad on your TV. Till date, Emraan has endorsed only three brands, namely Q Mobile, Cobra Deo and Oscar Premium Vests.
8) Low-Profile Star
Emraan Hashmi is one low-profile star. He neither goes to parties nor events. He is one of those few actors who come out publicly only to promote movies or to give interviews.
Though uncle Mahesh Bhatt helped Emraan Hashmi a lot in bagging films, there is no denying that the actor is a hard worker and has come a long way. Even after uncle Mahesh cast him in movies under his banner, the actor wasn't so successful initially. He was considered the guy who is only fit for hot scenes.
With initial flops like Footpath (2003), Tumsa Nahin Dekha: A Love Story (2004), Aashiq Banaya Aapne (2005), and the crime thriller Chocolate (2006), Emraan garnered huge praises after his role in Gangster (2006). The film was a success and soon Emraan was slowly seen climbing the ladder of success. The string of hit films continued with Raaz 2:The Mystery Remains (2009), Once Upon A Time in Mumbai (2010), Murder 2 (2012), The Dirty Picture (2012), Jannat 2 (2012), Shanghai(2012), Raaz 3 (2012) etc.
Moviegoers and critics have even started considering Emraan as the next superstar of Bollywood but the table turned again. Emraan Hashmi's films once again started bombing at the Box Office.
Although Hashmi is going through a rough patch of his career with his last nine movies bombed at the Box Office, the actor has enough potential in him and his upcoming movies include 'Captain Nawab','Baadhshaho' which also stars Ajay Devgn, Ileana D'Cruz, Esha Gupta and Vidyut Jamwal and many other movies in line.
Emraan Hashmi is here to stay and has established himself as an A grade actor due to his hard work and down-to-earth personality.